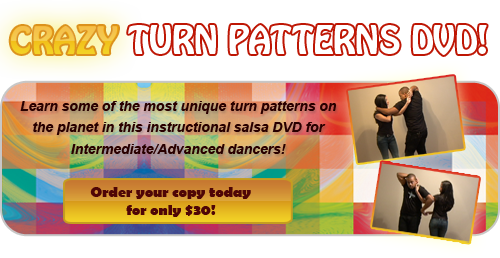 Crazy Turn Patterns in Action!
Watch Micah & Kathy demonstrate some Crazy patterns on the dance floor!
Micah and Kathy, founders of Mambofodadáz Dance Company, are two of the most popular performers and instructors in the US and around the globe! They have performed and conducted workshops in cities such as Chicago, New York, Houston, Miami, Columbus, St. Louis, Toronto, Montreal, Edmonton, Rome, London, and many more.
After years of requests from their fans, Micah and Kathy are finally releasing their first instructional DVD, Crazy Turn Patterns FODADAZ, to break down a few of the crazy and uniquely intricate combos that have amazed audiences worldwide!
Packed with 7 crazy and intricate patterns, this DVD is sure to take your combos to the next level with tricks, flips, slips, drops, pretzels, and much more! Order your copy today!
DVD Preview
Check out the video below to get a glimpse of what you'll learn on this DVD!
(FAST SHIPPING to anywhere in the world! Please allow 2 weeks for International delivery.)
Customer Reviews
One of the best instructional DVDs I've ever bought. It has improved my way of thinking about dancing possibilities and added a lot to my arsenal. Can't recommend it enough!
-Philip from the United Kingdom
This video is a vivid demonstration of arm tricks, quickness, and creativeness. A definite must have for dancers looking to master complicated patterns!
-Christian Gutierrez, Latin Dance Factory
If you love creativity and originality and a challenge, I very much recommend this DVD. Pace is great, the patterns are hot. A must have for true salsa enthusiasts.
-Rich from Utah
"This DVD is OFF DA HOOOOOK! The turn patterns are wild and blow my mind a lot, but the way they teach the moves piece-by-piece makes it easy for me to learn!"
-Allan from Florida
"Having watched Micah and Kathy tear it up for years on YouTube clips, I'm glad they finally came out with a turn pattern DVD. The explanations are clear, and the turn patterns are of course as creative as you will find in all of salsa. Thank you Micah and Kathy!"
-Pete from San Diego
"I've always been a fan of complex and intricate turn patterns, but this DVD takes the cake. I'd have to say Micah and Kathy really delivered on this DVD. I've added this enitre DVD to my arsenal of turn patterns and because of this I've come out a better dancer. Can't wait for the next DVD to come out."
-Jose from New York City
Read more customer reviews here!
Resellers and Affiliates
Interested in reselling or distributing this DVD in your studio, store, or website? Email us today for more information about our low rates and no-risk options! Also be sure to ask about our affiliate program.
Email us at: This e-mail address is being protected from spambots. You need JavaScript enabled to view it